| Event | Date |
| --- | --- |
| Mod Apps | Oct 15 – Nov 5, 2021 |
| Interest Check | Oct 29 – Nov 12, 2021 |
| Sign-Ups | Nov 19 – Dec 12, 2021 |
| Contrib Assignments | Dec 19, 2021 |
| 1st Check-In | Jan 19 – 21, 2022 |
| 2nd Check-In | Feb 19 – 21, 2022 |
| Submissions Due | Feb 28, 2022 |
| Content Reveals | Mar 4, 2022 |
| Creator Reveals | Mar 11, 2022 |
Guidelines
Requirements & Rules
1. Works must be centered on the relationship between Furuya Satoru and Sawamura Eijun (romantic or platonic), but background ships may be included if the giftee allows it.

2. Giftees "do not wants" must be followed. Please be respectful of everyone's preferences!

3. Only those who are 18+ will be allowed to recieve and/or create NSFW content.

4. If you have any questions regarding your giftee's preferences, reach out to a mod so that we may contact your giftee for you. Participants must remain anonymous until creator reveals at the end of the event.

5. This event will follow the AO3 rating guidelines. Also, please be sure to tag your works appropriately.

6. The minimum requirements for gifts are:
Writers: Minimum word count of 2000.Artists: At least one fully-colored illustration, no background required.
Sign-Ups
The sign-up period will be open from November 19th to December 12th. The sign-up form has four main sections.

1. General Information
Here you will provide your preferred name, pronouns, age (18+/18- okay), social media, if you will be a writer or artist, your AO3, and your Discord. Please remember that an AO3 will be required for this event.

2. Gift Preferences
In this section, you will indicate what type of gift you prefer to receive (art, fic, or either). You will also describe your preferences. There will be one question for tropes, prompts, and likes you have, and one for tropes/themes that you don't want to receive. There will also be a question on which background ships you like, if any, and what rating you want for content based on the AO3 rating system. Remember that only those who are 18+ will be allowed to create and/or receive NSFW content.

3. Creation Preferences
This is similar to the last question, in that it will ask about preferred ratings, background ships, what you like, and what you don't want, but for what you create. In both this and the previous section, please be as detailed as possible to make the matching process easier.

4. Pinch hitter
A pinch hitter is someone who steps up to create another gift if someone drops out, though it will be on a shorter schedule. This is to ensure that everyone receives a gift. This section asks if you're willing to be a pinch hitter for the event, and how many pieces you're willing to pinch hit for. Even if you agree now, you can change your mind later. The shortest amount of time a pinch hitter may get will be 2 weeks before content reveals.
Check-Ins
There will be 2 check-ins during the creation period. The 1st will be January 19th-21st, 2022, and the 2nd will be February 19th-21st. Both check-ins will simply ask for a link to your progress, if you feel you will be able to finish on time, and if you need to drop-out. The 2nd check-in will also ask for suggestions on what you want your fic graphic/art preview to look like, if you want us to make one for you.
Posting
Your works must be submitted and added to the AO3 collection by February 28th, 2022 at 11:59pm EST. You will have one more week after that to make final changes until content reveals on March 4th, 2022 at 11:59pm EST. Creator reveals will occur a week later on March 11th, 2022 at 11:59pm EST. Please stay anonymous on which piece is yours until creator reveals.

For fic graphics/art previews, the 2nd check-in will ask if you want us to make one for you. If yes, we will ask you for your AO3 username, the rating of your piece, the title, and a summary for the fic or a preview for art. We will also ask for suggestions if you have ideas about the image, font, or colors you want. Otherwise, we will use our own design ideas. If you want to make a fic graphic/art preview yourself, we will ask you to email it to us by March 1st, 2022 at 11:59pm EST so we can use it for reveals on Twitter. You will have to provide a version both with and without your AO3 username for content and creator reveals.
Dropping Out
If later on you feel that you can't make the deadline for any reason, you are allowed to drop from the event. To ensure that everyone receives a gift and that pinchhitters have enough time to make the additional gift, the drop out deadline will be February 21st, 2022, the last day of the 2nd check-in. This will give pinchhitters at least 2 weeks until content reveals.
Mods
Mod Dragon
Head/Organization Mod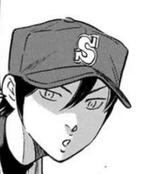 Hello! This is my first time hosting an event of my own and modding for an exchange, but I have modded for several big bangs.

Daiya no A is my favorite anime, and sports and crime/mystery are my favorite animanga genres. My favorite characters in DnA are Eijun, Miyuki, and Furuya. Holding this event is all part of my evil plan to have more furusawa content for me to consume :D
Mod Jess
Graphics Mod

Greetings! I"ve been around the block when it comes to hosting events and zines. If you want to see what I've worked on, click on my Carrd link and follow the navigation bars.

Daiya no Ace is one of the most precious things ever created, and I love everything about it. My favorite is Furuya, who is a soft and precious bean. I look forward to working with you!
Mod Christine
social media Mod

hi! this will be the third daiya exchange i'm modding for (and they're all eijun-centric ones! allsawa enthusiast, caught redhanded.) and each time, i'm amazed and honored to see everyone's works!

if it's not obvious, my favorite character is eijun, closely followed by m-miyu - i can't even say it, no thank you. happy to spread the furusawa agenda, please look forward to it<3
faq
Q: What is an exchange event?
A: In a gift exchange, participants fill out a form with their likes and dislikes in fanworks for the ship or topic of the exchange, along with what they will and will not create. They are then assigned another participant to make a fic or art for based on the participants' preferences. The gift is created and posted anonymously for the giftee within the timeframe of the event, and the creator is later revealed.

Q: Who is allowed to participate?
A: Must be 13+ to join and have a Discord (if we create a server, based on interest check results) and AO3.

Q: Will NSFW content be allowed?
A: Yes, but only those who are 18+ will be allowed to create and receive NSFW content.

If you have any additional questions, feel free to DM us on twitter (@frswexchange21).